The Nigerian singer Di'Ja who is still till today most famous for her verses on MAVIN songs "Dorobucci", and "Adaobi", and for her hit solo single "Awww" has been on and off for a while now with regards to her career. She goes off comes on releases one or two songs and go off again. That has been the trend for some time now.
See her picture below;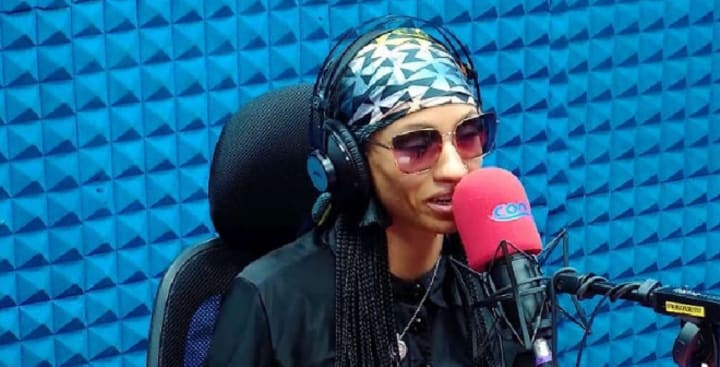 She was recently granted an interview in which she was asked questions about her current trend. This is what she had to say- To the people outside, it does look off and on but to the creative, it's almost like an everyday thing regardless. But sometimes you know you're constantly creating and you second guess everything you create. I go through those a lot.
Secondly, I just put my all into trying to know motherhood. I went through motherhood wanting to know how to sort of the attitudes, the different things that tick my kids off, different things like that.
Sometimes you just get so drawn into just knowing these little humans you just want to be selfish about it. And honestly, I have been working you know, in my home studio and pushing. It's just more or less sometimes your anxieties after a while kinda get the best of you.
It's just like "okay maybe this is not the time to drop this one", or "okay maybe", so it wasn't necessarily an intentional thing. But I feel like, in a way, I kinda grew into myself while the off and on was going on. I can't deny that I push a lot on mental health because I have my little struggles in my mind that I try to settle with. But I've been settling with myself in the last couple of months so I gotta give myself some props. It's not easy.
I think no matter what, we're sort of in an instant gratification environment now. So you kinda have to be just giving them back to back. And by the grace 0f God, we're going to be in that realm. As I said, sometimes it's very hard to pinpoint exactly. But honestly, in that time, there's going to be a "here's what's been going on". It's not just going to jump into things. I'm trying to put things together in how to connect with my supporters, the people that've been there regardless of whether it's been on or off. And I want to say thank you.