"I Am The Proof That All His Creations Are Masterpieces", Actress Lola Magret Brags As She Celebrates Birthday In Style
Nollywood actress Lola Magret boasts as she celebrates her 21st birthday today.
Lola Magret, 39, expressed her gratitude for another year of life on Instagram. Her post was filled with gratitude for God's creation and a sense of purpose that comes from understanding one's own uniqueness.
In her essay, Lola Magret discussed the breathtaking beauty of nature and pondered whether the sun, moon, seas, or human brain could ever be duplicated.
She understood how each creature is distinct from the others and how this distinction contributes to the beauty of God's works of art.
She penned: I am so grateful God!!!! Thank you for another wonderful year. Is there anybody who can duplicate the sun, moon, seas, or the human brain? I am the proof that all His creations are masterpieces, He put a unique code in my fingerprints such that no other creation of His is exactly like me. Someone else may have the same name, height, looks, and complexion as me,but no two people are exactly the same. He made me unique for a purpose and i will fulfill that purpose in Jesus' name.Amen HAPPIEST BIRTHDAY TO ME!!!Please say a word of prayer for me.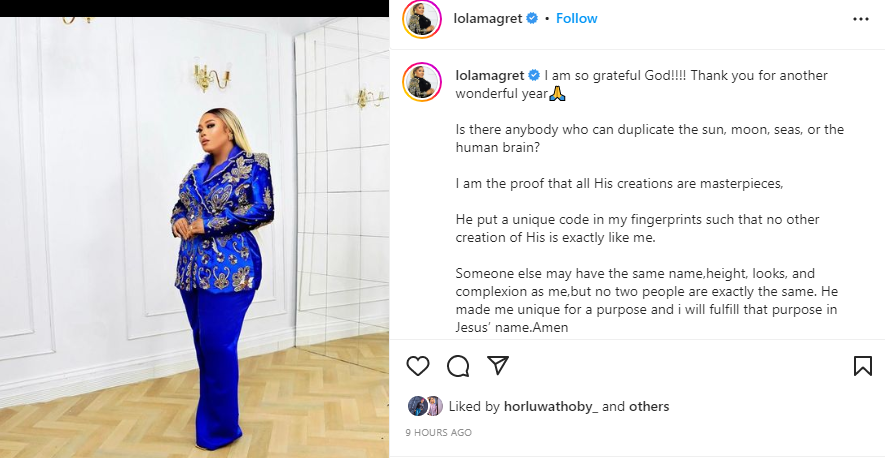 Related Posts