Nigerian veteran singer, Charly Boy, has taken to social media to discuss issues about marriage, as he disclosed one of the many things that couples go through as they continue to stay together in their union.
The activist who asked such a question through his official Twitter account asked Nigerians about their thoughts if he eventually goes back to bachelorhood, after over 45 years of marriage to his wife.
Charly Boy further stated that marriage is not an easy thing, adding that the longer one stays with his/her partner, the harder the marriage becomes.
The singer finally asked his fans and followers what he should do, adding that he is tired of his marriage.
Here is Charly Boy's post below;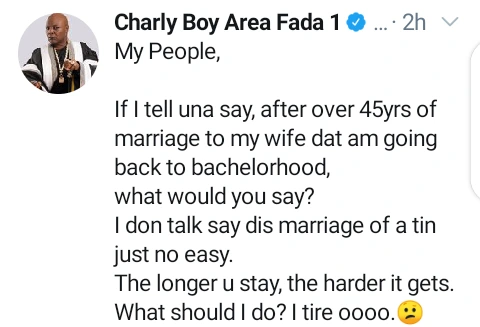 Recall that Charly Boy's first marriage to his former wife, Stella, ended a few years ago, as he revealed that he was forced into such marriage at a very young age.
The singer however married his current wife, Lady Diane, a few years ago and there have been no bad reports from their union.
However, following such a question asked by Charly Boy, one will begin to wonder if everything is alright with his marriage.
Related Posts