There is one thing in life that poses fear to everybody on this earth. The famous artist, Kwame Eugene, his greatest fear is waking up one day and no one recognizes him. The award-winning artist was speaking to Doreen Avio show. In his words'' My greatest fear is to wake up one morning and realize I am not this rockstar.
Check this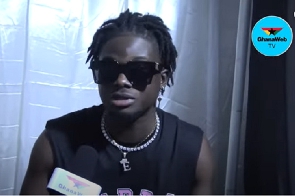 Imagine I wake up and go to the mall and nobody says Rockstar, I will ask myself if I didn't sleep well. That is his fear about life. He is an artist that is loved by many due to his hard work and whatever he set himself to do he does it to its fullest.
He made mentioned in an interview that he won the VGMA award just so he can tell his kids he won over some of his colleagues like Kidi and Kinaata. It is hilarious but that was what inspired him to put in his all.